Portable Toilets
Minimum 2 Day Rentals for All Occasions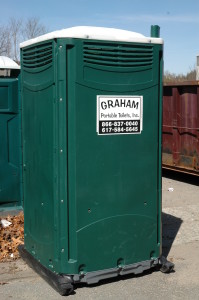 Graham can provide clean portable toilets and sanitary facilities for all of your construction work or social events. Our team of logistics professionals can deliver the portable facilities that you need on-time and with a minimum of hassle. Clean, efficient and affordable, we can have Graham's portable toilets there when you need them.
Whether you need toilets for a construction, government event or a social event, we have the mix of facilities to help you succeed. Whether you're looking for basic construction units, or fancier portable washroom facilities for your private events, Graham is the answer for your portable toilet or porta-potty needs.
Delivered, Serviced and Removed
If you need our toilets for a day, a week or a month, we are standing ready to deliver and service the facilities that you need. Clean and sanitary, we only deliver and maintain the cleanest toilets possible. We like complex jobs and assignments, and as a great logistics company, we can deliver, distribute and remove toilets according to your precise schedules.