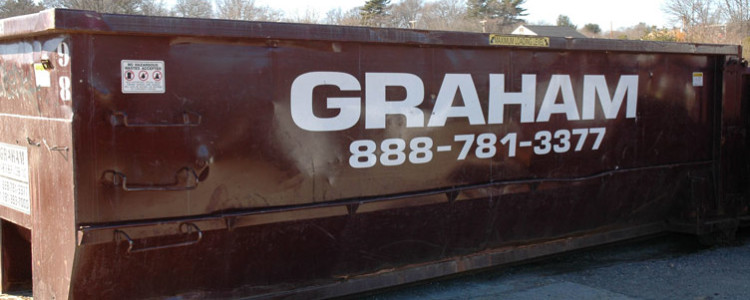 Dumpster Rental
Graham Waste Dumpster Rental
Homeowners and professional contractors alike need a name they can trust when it comes to dumpster rental. Graham Waste Services is a family owned and operated business that has labored over 30 years to establish a solid reputation in the industry. We are second to none in the field of roll-off containers, backing our quality products with stellar customer service standards that exceed even the highest client expectations.
Rental Dumpsters: Time Is Money
When you have a home improvement project scheduled for the weekend or an important work order deadline for a commercial client, every second counts. The professional team at Graham Waste is dedicated to delivering and picking up your rental dumpster on time, every time.
We have a team of customer service representatives ready to answer your telephone calls during normal business hours, ensuring terrific communication throughout the entire dumpster rental process. Simply inform us if you need your roll-off container delivered or picked up at an odd hour and we will gladly fulfill your request. You will never be left waiting around for your rental dumpster when you do business with Graham Waste.
Dumpster Rental Options Are Essential
Work sites vary greatly in both size and debris type. For this reason, we at Graham Waste have a large number of dumpster rental options available to our clients. We offer open top roll-off containers in 10, 15, 20, 30 and 40-yard sizes.
Our skilled customer service agents are well versed in matching homeowners and commercial contractors with the perfect dumpster size to match the work order. Our clients never need worry about going over their allotted waste budget, as our number one priority is matching you with the most affordable roll-off dumpster option for your specific job.
Location Counts
Graham Companies serves Cape Cod, Boston, eastern Massachusetts and southern New Hampshire regions. We are glad to provide same or next-day delivery and pick-up throughout our entire service area.
All of our drop-offs and pick-ups are scheduled around your specific needs. We guarantee that your rental dumpster will be there for you right when it is required. In addition, your rental invoice will be delivered in a timely fashion, so that you can tie up all the loose ends of your work order in no time.
Graham Companies prides itself on providing the highest quality roll-off containers in the industry. We work hard to exceed each of our customer's highest expectations. Allow us to handle all of your waste receptacle needs and you will be rewarded with exceptional products and extraordinary service.